I'm taking a break from the Burda skirt. When I first tried on the muslin, I think I was just excited because I'd managed to stitch something together. Upon closer inspection, I realized that I would have to figure out solves for wavy side seams, crooked darts and getting the waist right. The good news is I don't feel defeated; I know I need to refresh and retrench. The good news is I have resources lined up that are helping me understand what I need to do:
I've mentioned this Burda article
before
.
This
article
by Kenneth D. King is like the holy grail.
However, it took Craftsy.com to bring it on home. I was so unbelievably thankful to receive this:
Linda Maynard
is simply awesome! There's now a tie for new favorite instructor and new favorite class. Like
Susan Khalje
in
The Couture Dress,
you learn because she demonstrates in an organized and methodical way.
Sandra Betzina's
classes are great; it's just that at some point, you find yourself feeling a little overwhelmed. I'm extra pleased because Linda's models have my fit issues. This class hits some of my major hangups!
As I'm letting all of this info sink in, I'm going back to KS3740. I have attempted this top a gazillion times. I'm claiming a breakthrough this weekend. The finished version will not look like this!
I will be much obliged if anyone can tell me why my shoulder seam is too far forward at my neck and what is causing the wings over the girls. Are they the result of my square shoulders?
Last but not least, I need some cold weather gym attire. I ordered these two Kwik Sew patterns: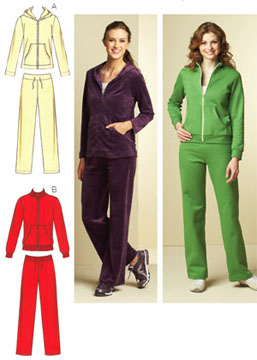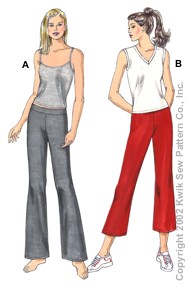 It is with great sadness that I report the patterns are on white tissue paper. I haven't been excited by the newer Kwik Sew pattern releases. When I finally purchase a couple of patterns (more for necessity than style), they come on tissue. (I also got two page three instruction sheets in the sweatsuit pattern.) Thanks McCall pattern company. When I learned about the
merger
, I was hoping to see more of Kwik Sew's construction methods shared with the BMV brands, but I don't think that's been the case. Seems like Kwik Sew is getting the worst of the deal. The one bright spot is that the new pattern envelopes aren't glued at the top, so you don't have to damage the envelope to get to the pattern.