Yep. I'm thinking that far ahead. I need to figure out two things -- a fitted T-shirt and pants. My life would be complete.
These are things I've always needed. I just feel more desperate now. The top is what I'm tackling first. I made another attempt at
Kwik Sew 3740
a couple of weeks ago (I heart the cowl neck.) It wasn't successful; I'm still trying to figure out my curves. My recent weight gain has exacerbated the issues:
Full bust (I've been adamantly opposed to a bust dart)
Relatively small waist
Sway back
Full hips
High & round butt
I've decided to try another brand as the basis for a TNT pattern. Enter
Pamela's Patterns Perfect T-Shirt
and
Sewaholic Renfrew Top
.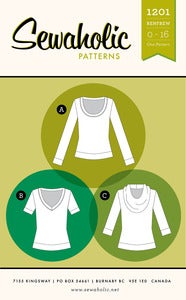 I chose these because they have some fitting solves already built in. Sewaholic Patterns are designed for pear-shaped (I now prefer
teardrop
) women. From Pamela's patterns:
---




Shoulder seam sits too far back

---




A forward shoulder is built into the pattern

---




Shoulder seam extends too far

---




Shoulder seam is smaller to give a more realistic fit

---




Back neckline is not high enough, causing shirts to "fall" back

---




A high round back is incorporated to keep the shirt where it should be

---




Armholes are too long, creating a pucker in the armhole area

---




The option to petite the shirt and armhole area to bring the armhole higher

---




Garment pulls across the bust due to a full bustline

---




Choose from two fronts - darted and undarted for a smooth finish no matter what your cup size!

---




Too much fabric in the waist area

---




Built -in "essence of waist"

---




Too tight though the hips

---




More generous in the hip area

---




Sizing never seems to be right

---



I'm starting with the Perfect T-Shirt. I'm excited not only because of the pattern, but I've found some great resources. I got these from
Nancy's Notions
.
Pamela's Patterns also has options for
new necklines and sleeves
. Londa has
cowl options
. I'm not above redrafting the beloved Kwik Sew collar to fit whichever pattern ends up working.
God forbid I can't get either of the patterns to work. My third option is
HotPatterns Plain and Simple Fitted T Redux
(25% off this weekend). It has "a shaped center back and side seams for a feminine fit."
To keep my sanity, I'm allowing myself take a break between each muslin (if I need it.) I figure an A-line dress with bust darts, center back and waist seams will keep any frustration brought on by the top at bay :-)
Alright, I'm going back to my tracing now. Reviewers mention the Perfect T-shirt runs big, so I'm tracing the un-darted medium and small at the same time. I should have the first muslin done Monday.
Wish me luck!