I've discovered
Serendipity Studio
patterns (thanks to the recent sale at
Fabric.com
). I wish I'd found these earlier in the year. I might have been inspired to get behind the sewing machine more for some summer clothes! The catalyst was the Chicago weather. It cooled down to highs in the 70s and I started thinking about my fall knits. Then, it got back up to the 90s and I was dying for something cool and cute to wear!
What's so great about Serendiptity Studio is that it has forced me to hit the quilting sections in the fabric stores. I went nowhere near any of that stuff before. For some reason, I had no problem with patterned ITY knits, but I was lost when it came to patterned wovens. So this is how you get those cute summer dresses and skirts :-)
The
Stella Strip skirt
is so interesting. I was worried about cutting all of those strips. Now I know what a jelly roll is. Why are the quilting fabric bundles named for cake and pastries?
Aren't the patterns cute? I'm ready for summer skirts! Too bad it's Labor Day weekend, but I'm early for next year. (Trying to be positive.)
I think these are my favorites:
Now, you can't look at patterns like those and not buy any fabric, right? I'm new to mixing patterns, so I hope this works. It took a consultation at Jo-Ann to figure this out:
It's for the
Emaline skirt
. The check is for the tie and a hem border. I had to have a top to match. What do you think about
KS2856
? (This top has been discontinued. As of right now, there are two left at Fabric.com.)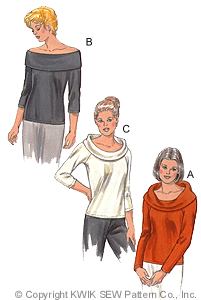 View B with this pink jersey:
With such a bold print, I thought I needed a more dramatic top to make this an outfit and not just a skirt and a random top. Hancock Fabrics comes through again with a $2.95 value fabric! By the way, both the floral and the check were $3.00/yd. The lining was $1.79/yd. Just looking at the fabric makes we want a glass of lemonade! Working on this in February might chase away the winter blues. If the patterns arrive today, I might start working on the skirt now!