I picked Nia up Wednesday night! Thank goodness her illness was mild. She has a new presser foot lifter stop motor. I think. She also got a complete tune up and she's purring. I don't think the machine was this quiet when purchased!
While I'm on the subject of sewing machines: I want Nia to have a sister! I'd been thinking that just maybe a new sewing machine would be here for Christmas. I had my heart set on the
Pfaff Creative Performance
. It has all of the sewing features I'd love to have now like LED lighting, throat plate markings on the left side too, color screen, an easier-to-understand-Stitch Creator, adjustable presser foot pressure and automatic thread snips (every time I watch Nancy Zieman's machine do that, my eyes get misty.) Then there's the optional embroidery unit, which I planned to grow into. I liked the option of upgrading my machine without buying a new machine.
Now I see that the
Performance 5.0
will debut in May.
It seems to be a jazzier version of Nia. I'd get more stitches, including Pfaff's Maxi stitches, a color screen, LED lighting, the new Stitch Creator and the automatic thread snips. I wouldn't get adjustable presser foot pressure or the embroidery option. Hmmmmm.
Now, on to the
Great British Sewing Bee
. Isn't Ann simply awesome and so gracious? If the competition was about technical excellence, she certainly has it! Ann's style is classic and she nailed every detail. To be so calm under pressure is wonderful!
This is actually where I struggled a bit with the show -- criteria (and I'm not sure my conflict can be resolved.) Should a home sewer be able to do anything and everything? Is the best home sewer, or the best anything, someone who has professional talent, but chose another career? (Perhaps this is an obvious yes.) Where were the sewers who could push the envelope creatively but also had very strong technical skills? Do you need equal parts of both as a home sewer? Does more artistic creativity lead you more to fashion design and does that lead to a show more like Project Runway? Is fitting another person really a fair thing to judge? Couldn't the best home sewer be someone who has only fitted herself or himself? I guess there is no reward if you are selfish with your sewing skills, except a closet full of beautiful things for you. (I may be channelling the
Selfish Seamstress
.)
Maybe my questions will be answered. Yes, there will be a second season!
I've learned two things from the Great British Sewing Bee. First, there is a place for my nerdy OCD tendencies in sewing. Ann won based on her vast wealth of knowledge and her commitment to doing things right. Lastly, I should be able to complete projects faster. My skills aren't close to anyone's on the show, but -- with prepped fabric, I should be able to complete a simple muslin in a week.
Which brings me to my last subject of the day. Spring has made a fleeting appearance in Chicago. Nia is back home and the Great British Sewing Bee has been on my mind. You know where this is going. I want to whip up (and I use that phrase loosely) a top.
This is
B5480
. My favorite knit top looks just like View A on the left. I would like to try my hand at a woven version.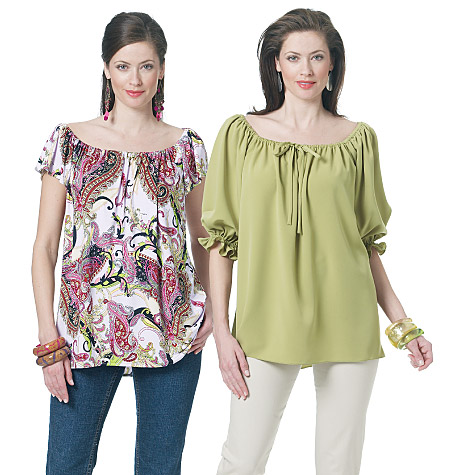 Here's the Jo-Ann Red Tag fabric I allowed myself to buy. (In celebration of Nia's return). It's a printed linen cotton blend. I'm prepping the fabric based on Carolyn's
post
.
I didn't do such a great job at stopping the fraying during the first wash, so I have to use an overlock stitch before the second wash.